Ing. Joseph Persampieri
President & CEO
Joseph Persampieri has more than 50 years of experience in the defence sector. He is a graduate in Electronics Engineering from Manhattan College; completed his Masters Degree at Polytechnic University of New York.
He started his career at Union Carbide as a Digital Design Engineer in 1970, then he joined Loral Electronic Systems (today Lockheed Martin ), were he was involved with various Electronic Warfare Programs like F-15 RWR, F-16 RWR/ECM, Mirage 2000 RWR/ECM Atlantic and Nimirod, after 7 years Mr. Persampieri left the company as a Principal member of the Engineering Staff.
Joseph continued his career by joining United Technologies Corporation (UTC) as a Senior Engineer were was involved with the design of a Multiple launch Rocket system, for Vough Corporation used by various military around the world.
After that he joined Sperry Corporation (now Unisys) as a Senior Systems Management Engineer where he was involved with Electronic Warfare Systems, for the Canadian Navy. He went on assignment to Canada with the Canadian Petrol Fregates program as an expert in the field of electronic warfare for technology transfer from the U.S. to Canada. In his position he played a Liaison role between the customer (Canada's ministry of defence) and the suppliers.
In 1989 Mr. Persampieri was offered a position in Alenia Aereonautica as an electronic warfare expert. In his position he played a liaison role with the partner companies based in the UK, Spain and Germany, in the realization of the EFA program.
Starting in 1999 Mr Persampieri spent 5 years building a Space/Defence division in Eles Semiconductor S.P.A. where in his position he established working relationships with several Finmeccanica Divisions, Elt s.p.a. and other multinational companies like EADS and Thales...
In 2003 Mr Persampieri founded ERA Electronic Systems as President & CEO, he has been leading the company since then.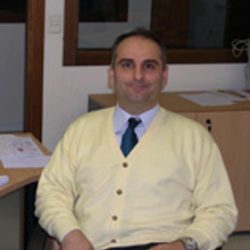 Ing. Daniele Faraghini
Vice President & Operations Director
Daniele Faraghini, is a graduate of the University of Bologna.
He started his career in 1989 at ISA spa of Bastia Umbra as a design engineer responsible of electronic parts.
From 1990 to 1992 he started development expertise about QA norms (ISO 9000) participating to various courses on Total Quality.
In 1993 he joined Eles Semiconductor as responsible for the QA and reliability systems.
During his stay in Eles, he performed research and development activities to improve the products reliability.
In1995 he started his consultant activities on the implementation and maintenance of QA systems. In 1996 Daniele became the director of a consortium in Umbria to handle research and environmental activities.
In 1997 he was a consultant for C&F Marketing; his task included system integration, QA, safety and environmental.
From 1997 to date he performed consulting activities on the following programs:
EFA
NH90
IRIS-T
ORIZZONTE
TORNADO
EH101
In 2003 Mr Faraghini joined ERA Electronic Systems; since then he occupied various positions, to date he covers the position of Vice President of Operations.